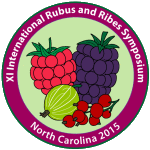 On behalf of the Rubus and Ribes Working Group and the Vine and Berry Fruits Section of the International Society for Horticultural Science (ISHS), NCSU and PHHI will be hosting the XI International Rubus and Ribes Symposium in Asheville NC, June 21- June 24, 2015 .
This symposium is held every four years and takes place in countries that are known for thier production of Rubus (blackberries and raspberries) and Ribes (currants and gooseberries). The last two sympsoiums were held in Zlatibor, Serbia (2011) and Pucon, Chile (2005).
The theme for this symposium is Healthful Harvests, Global Reach, Local Roots. The conference will consist of a three-day scientific program at the Rennaisance Asheville Hotel.  This event will be open to those involved in all aspects of Rubus and Ribes research, teaching, extension, business, and public services and to promote international co-operation between colleagues all over the world.
For more information contact:
Gina_Fernandez@ncsu.edu
Penelope_Perkins@ncsu.edu